---
Hey guys, I hope you enjoyed last week's Madness. There's a lot more in store this week.
---
Good morning guys,
In this week's newsletter, I wanted to share an insight into my day from last week, and in the progression of my day, I made a realization.
Well, I'll let you find out for yourself.
I'm starting my day with my shroom coffee and in the flow of things hoard of people assemble into the kitchen. Now, my instinct would be to walk out, but I notice various conversations are building up in each corner of the kitchen with 2m distance still in motion. Now, these conversations usually entail matters of projects, meetings, and personal affairs. I mean honestly, working with 50+ year old, has somehow become the highlight of my day.
I find myself confabulating with a hardware engineer who starts to layout the structure of things I need to accomplish. At this point, I'm thinking - ' Can I just have my coffee!', but moving on his attempt to structure the tasks out reminded me of Parkinson's law. And, that's what I did - I spent few hours doing the following: taking apart a cabinet that was previously used by another project and then correctly assembling the new configuration with the help of a system architecture. Now, due to the tedious nature of the task, I could have easily spread it out within two days. But the essence of keep going and continue to stay in flow was essential to completing the assigned task on that day. I realize that in delaying to complete the task would only add extra pressure later.
Later that evening, I'm contemplating on the next post for my blog. I batch my Wednesdays to writing time, so I decided to research a few ideas and apply the FBR concept. I'm in a flow - writing one paragraph after another I've now conceptualised the idea into a useful piece of information. I stayed inflow to complete writing the post and not deviated from my task or postponing writing on another day.
Staying in the flow of things has enabled me to achieve what I set out to do. I've found this strategy to be extremely useful in completing project work or tasks that have a fast track time line.
I hope you guys can apply 'staying in flow' to your day and ultimately reap in the rewards.
I hope you folks have an awesome week.
Yours truly,
Abhishek
Stuff, I enjoyed from last week
Podcast - Noah Kagan's interview with Ali Abdaal, this provided extensive amount of valuable information that I've already started to implement on my social media. Definitely, one to listen, maybe more than once.

Article - I like to return to this article from time to time. It provides that much needed reassurance when I don't feel like writing. This article is definitely a must read if you're considering writing online for the very first time.
A Question I'm pondering on...
How should I choose what to read next?
Kindle Highlight of the week
When you teach someone how to do your work, you are, in effect, generating more interest in your work. People feel closer to your work because you're letting them in on what you know.
Show your work by Austin Kleon
Blog post
Staying Productive at work - in this week's post I highlight how I've been utilising my downtime "lunch break" to be more productive and work on my side hustle.
Video
Notion Part 1: 3 Useful tips for Beginners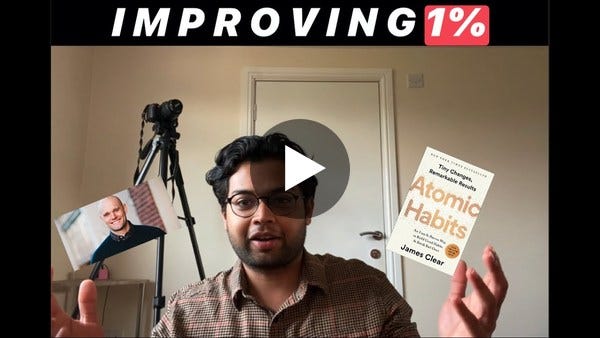 Favourite idea - Improving 1%