---
Good morning guys,
During the month of February, I published an article called the 'Secondary Network' which was inspired by this article, the idea of creating a digital repository to store potential ideas and action them at a later stage. Because as we know, our brain is not meant to store information.
This methodology is not only for preserving those ideas but turning them into reality. It provides a clear, actionable path to creating a "second brain" – an external, centralized, digital repository for the things you learn and the resources from which they come
I have been using Notion as my go-to method. And, I've been successful in contributing to different facets of my life. And, these include
Organising my content for Youtube, blog and weekly newsletter

Creating an objective-based five-year plan that holds all the resources I need

Storing all my highlights for the books I've read

Scavenging list of useful information that I resonate with
Setting up a secondary 'digital brain' has also allowed me to become a lot more creative in my endeavour of learning a new skill like 'Video editing'. I can clip various useful information on 'how to edit videos' using the 'Notion Clipper' and free myself of storing that information and focus just on creating the content.
Notion Clipper is an add-on that can be applied on Google Chrome as a plugin extension. It's an excellent way of storing your favourite articles or any other relevant information.
Exercising the concept of a second brain has allowed me to extrapolate ideas from the vast world of information that is available on the internet. It has become a pivotal tool in my arsenal of productivity.
I hope you have an excellent week ahead.
Abhishek
Stuff I enjoyed from last week
Podcast - Michael Lewis - Inside the Mind of the Iconic Writer, hosted by Tim Ferriss - I resonated with ML's approach to writing - listening to a playlist of songs on repeat, provides a well needed zen to focus on your writing. So do check it out!

Article - The ultimate guide to writing online - I came across this article through my twitter feed. It's quite informative and provides invaluable information on creating an online home and begin your journey of writing.

Podcast - Borrowed Creativity, in this podcast Tiago Forte highlights that creativity is not a mysterious force, we experience it naturally through our own intuition or from people we feel inspired by. And, this usually gives rise to a new translated thought process.

Question I'm pondering on - It's important to have some heuristics, what are your rule of thumb when you say 'No' to people? Let me know your thoughts :)
Kindle Highlight
Vagabonding is an attitude—a friendly interest in people, places, and things that makes a person an explorer in the truest, most vivid sense of the word.
Vagabonding: An Uncommon Guide to the Art of Long-Term World Travel written by Rolf Potts
Blog post and Video from last week
Atomic Habit - highlighting the three key messages I took away from this book. This is different to the video I posted.

Show your work - highlighting the three key messages I took away from this book

Scavenger's list - my 'point of reference tool' that I like to refer to whenever I'm recycling ideas from potential articles, podcasts or Youtube videos. Check out I've set up my system on Notion.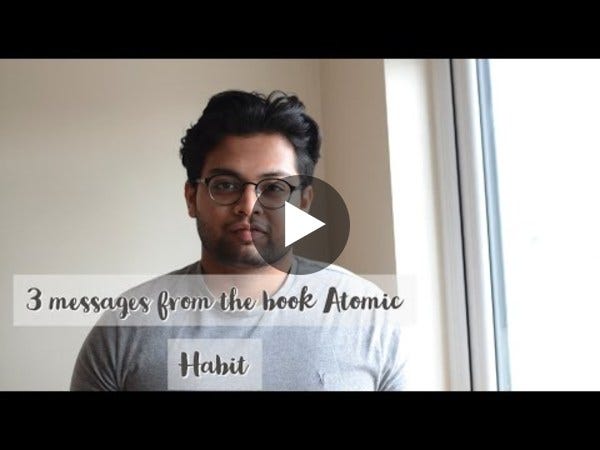 3 key Messages from Atomic Habit: 2020