---
Hey guys, I hope you enjoyed last week's Madness. There's a lot more in store this week.
---
Good morning guys,
For the past four months, I have been experimenting with listening to audiobooks. As a platform of choice: Audible, I have been actively exercising listening to books during my journey to work and back from it.
A part of this process is trying to remember what I've listened to and writing down insights from these books. Initially, the process has been unprogressive but, at one extreme, I'd pulled over to a safe spot to clip and write notes on ideas that have resonated with me. This was a pivotal point for creating a system so I could review my saved clips.
During this experiment, I found myself being prone to the idea of listening to books instead of reading them. At 2.5X speed, I've finished listening to a book in a matter of 2-3 days, which would have taken me a week to complete if I had read it. I also tested and worked with using Siri voice commands, which seem very much like a tested effort and not the ideal solution when dictating my notes for the saved clips. The reason for this has been voice command misinterpret some words when I'm speaking too fast.
In my current process of saving bookmarking and saving clips in audible is through a 'Clip' button that's available of the app. I'm able to clip relevant information which I can revisit and highlight ideas from my audio literature notes.
A process currently in motion - is the use of Default activity during my lunchtime. I'll find myself sitting outdoors on a workbench and reviewing the clips I saved from the books I've finished reading. Alternatively, I continue my stream of listening to a new book become engrossed in the culture of refreshing ideas to hone my overall productivity and creativity.
I have also found another benefit of using Audible - I find myself using the app for fiction reading. Something, I've not entertained for the longest time.
Here's a post that highlights few benefits of reading fiction.
Well, that's all for this week.
You folks have an awesome week.
Yours truly,
Abhishek
Stuff, I enjoyed from last week
Podcast - The speaking show with David Newman, a few takeaways from this podcast: 1/ You have arc's in your life that indicates when a chapter life is finishing. Derek suggests playing out hypothetical scenarios and visualise how you feel - are you excited to continue or does it drain you? 2/ If a goal that doesn't jump you into action - let it go, euthanise the goal. For instance, you want to learn Spanish, and you keep stalling at the idea, never pursue it to your fullest extent; let it go. And, when you are ready to give it your full attention and bring it back to life.

Article - The Value of Delight, highlights the notion of investing in tools that can provide the dopamine boost of 'delight'. And, rightly so, the articles goes on to state by investing in component and tools that provide 'value of delight' can increase your experience of using those tools 10x and expand your learning growth. To which, I resonate with - I've been using iMovie for about 7-8 months to edit my videos. With the idea of levelling up, I have been thinking about investing in Final Cut Pro X.

A question I'm pondering on - Do we derive our confidence and happiness from within or from others?

Video, I enjoyed watching - How to ACTUALLY stick to your goals and routines, expanding on the idea of Law of 100 and reasons why we follow our goals. Definitely worth the watch!

What I'm reading - Anything you want by Derek Sivers.
Kindle Highlight
Ideas are worth nothing unless they are executed. They are just a multiplier. Execution is worth millions.
Anything you want by Derek Sivers
Blog post
Reading is a well-practised norm that is entertained by the millions. As a one-directional reader, my focus for many years has been non-fictional reading on subject matters like productivity and self-improvement. The disadvantage of such approach, I neglected fictional reading which engenders the following: Simulation of vivid content through descriptive language.Entice readers with characters and…
Video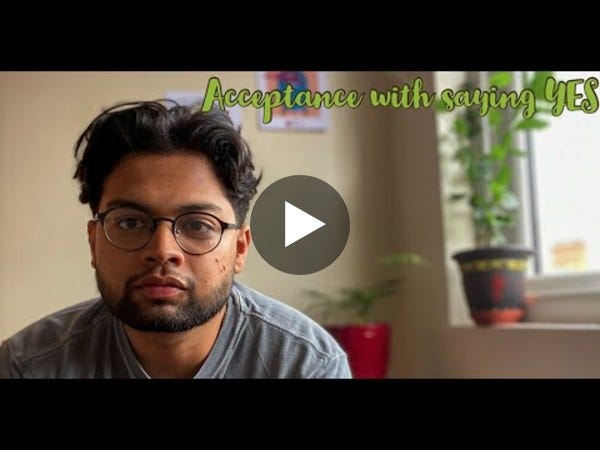 Acceptance with saying YES